This weekend, Copenhagen hosted the fifth INDEX: Design to improve life Awards. Charged with the task to "Inspire, Educate and Engage in designing sustainable solutions to global challenges," the event seeks to find creative and accessible solutions to some of our world's most pressing issues.
Here are a few of the notable winners from this year: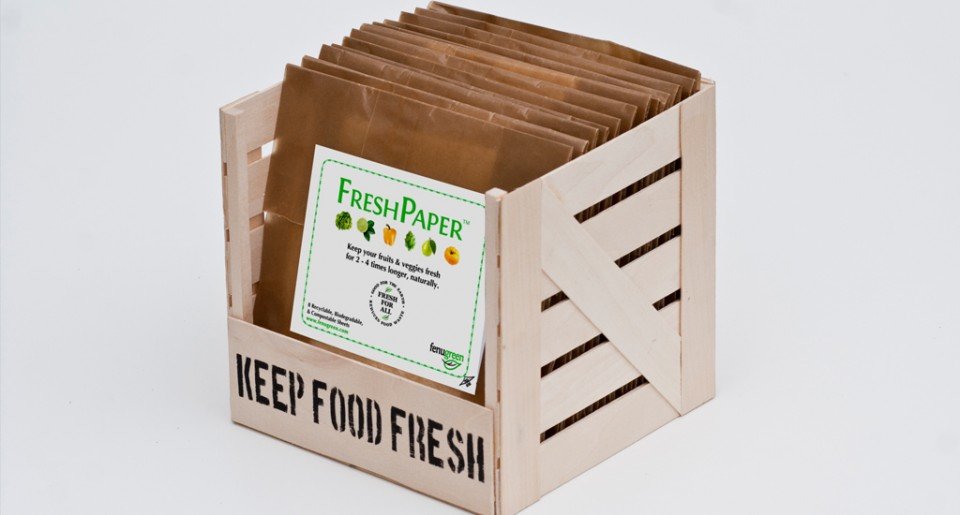 (Image Source: INDEX)
Home Category: FreshPaper
After learning that an estimated 50% of the world's food goes to waste (25% of it due to spoilage), inventor Kavita Shukla decided to tackle the issue head-on. Using one of her grandmother's recipes.
Unlikely, but true: The Indian innovator was inspired by her grandmother's spice tea medley, which she used to protect people from getting sick after drinking tap water. Shukla's FreshPaper is the result of experimentation that dates back to middle school, when she began to test which spices could best preserve food. The product is beautifully simple: it's a sheet of paper infused with organic spices that prevent bacterial and fungal growth. The best part? It works like magic.
(Image Source: INDEX)
Community Category: Smart Highway
Cars might be getting smarter, but the roads that they travel on haven't progressed with them. Dutch designer Daan Roosegaarde decided to give them a voice. Smart Highway is a 5-step concept that seeks to embed roadways with technology that can improve transportation's efficiency and sustainability. His design proposes highways that: "visually communicate when the road is slippery, charge your electric car as you drive, and generate electricity for its own lights."
Another added benefit: aesthetics. Extolling the "techno-poetry" of his design, Roosegaarde aims to create roads that are as beautiful as they are functional. The future looks bright for this concept.
(Image Source: Index)
Play & Learning Category: Raspberry Pi
Computers make a dent in your wallet. The average MacBook will set you back $1,500 – and even affordable PC models require a few hundred dollars. Researchers at University of Cambridge decided to develop a way that people from any income could access technology – and the result is the Raspberry Pi. At a cost of $25, this computer is not only affordable, but it also enables people of all ages to understand what's going on within the computer. An INDEX jury panelist noted: "Raspberry Pi is the possibility for people and especially kids to inform and get informed about the knowledge flow in society and thus become active players in the evolution and articulation of how democracy will be able to function in the future."


INDEX Awards Honors Innovation in Sustainable Design
was last modified:
September 23rd, 2017
by